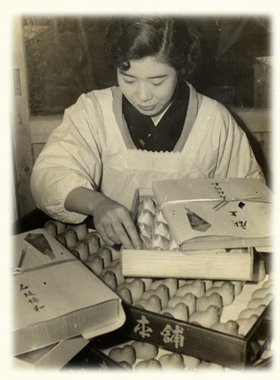 By February of 1957, the famous Iizuka-born Hiyoko had made its way to Fukuoka City's Shintencho Mall. In March the same year, Hiyoko won the President's Award at the 14th National Confectionery Exposition and became increasingly popular every day. Through the glass windows of the store could be seen four pots from which a fragrant smell emanated and in front of the store could be found a crowd of people. Inside, store clerks would wrap up each sweet one-by-one. All this feverish activity was repeated every day. In Fukuoka, the next goal was to obtain floor space in a department store to increase brand recognition and attain a higher level of consumer trust. However, being a new player at the time, it was difficult for us to find space on the department store floor alongside many established venders, but people from the area supported us in overcoming this difficulty, enabling us to obtain floor space at a Tenjin department store. And so Hiyoko could grow into what is now an emblematic Kyushu sweet.

In 1964, Japan experienced the beginning of astounding growth with the opening of the Tokaido Shinkansen Line (Tokyo to Osaka) and the Tokyo Olympics. To bring the famous Kyushu sweet to the tables of people in Tokyo, we built a factory in the city of Soka in Saitama Prefecture. Typically, the Hiyoko needs to "set" for three to four days in order to allow the ingredients to settle and achieve a balanced flavor. Moving to the Kanto region raised the issue of taste and how to use the drier air to our advantage. Compared to Iizuka's humidity, Kanto's air is like a strong, dry wind, and adapting to the climate required considerable ingenuity. Without compromising on the product's quality, the Tokyo version of Hiyoko featured a smooth surface and baked color that gave the treat a Tokyo-feel. And so the Tokyo Hiyoko, "sweets in adorable shape and with yolk's rich flavor", was born, which then flourished to become a sweet loved by people everywhere.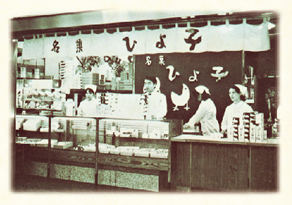 In 1966, a directly managed store was opened in the Yaesu underground shopping district at Tokyo Station. Hiyoko also became popular at the famous Shinjuku department stores and at Tetsudo Kosaikai (kiosk), a welfare institution for the disabled, young children and the elderly, which operated out of kiosks. Eventually, the Tokyo Hiyoko's product development also became a thriving business.
The flagship Tokyo treat was the Hiyoko Dessert, which is enjoyed throughout the country, even in Fukuoka. Although our products are now loved by people all over the country, they continue at heart to be a Kyushu treat. It is Kyushu's warm heart and spirit that we will continue to remember into the future as we move further forward together with Hiyoko.