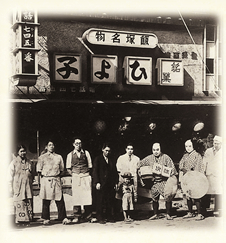 Hiyoko's home is Chikuho Iizuka, a place where sweets have always been popular. When Japan was closed to the outside world, sugar had to be imported from abroad to Dejima in Nagasaki and taken to Kokura via the Nagasaki Roadway. The road became known as the Sugar Road, and a culture of sweets manufacturing arose along that route. Chikuho had prospered from mining since the beginning of the Meiji era, and the mine workers needed sweets for energy. This contributed to it becoming a destination for sweets. In 1897, Naokichi Ishizaka, the first store manager, opened and managed his shop, called "Yoshinodo". The name "Yoshinodo" comes from the word "Somei Yoshino", a flower that blooms in the mountains called Yakiyama stretching from Fukuoka to Iizuka.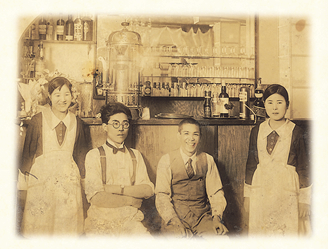 The year was 1912. The second generation store manager of Yoshinodo, Shigeru Ishizaka, was always up for a challenge to run a café and wanted to create a treat that people would love, a treat in an unusual shape. Born of his imagination, Hiyoko appeared to him in a dream. From that moment, he felt that he found what he had been looking for and focused on making his dream a reality. At the time, sweets were usually round or square, with no real three dimensional shape or form. People could imagine nothing different, let alone treats shaped like Hiyoko. After considerable trial and error, in the winter of 1912, he created the adorable Hiyoko using an original wooden cast.
This creation was dear to him as his child, and so he gave it a name that it has kept to this day.

Hiyoko, with its warm and adorable body, soon became the talk of the town. While it was adored by the miners, business people also began exchanging it as small gifts, quickly expanding its popularity. It even made an on-screen appearance in the film Yajikita Dochu, which boosted its popularity even further. You can still find the on-location commemorative photograph from the film hanging on the wall at the Hiyoko Honpo Yoshinodo.