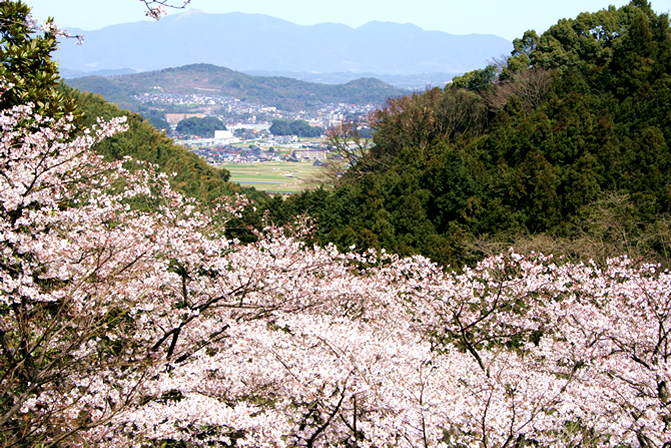 Where does the "Yoshinodo" in "Hiyoko Honpo Yoshinodo" come from?
On the winding roads of Yakiyama, the mountains stretching from Fukuoka to Iizuka, these "Yoshino Sakura" bloom beautifully and abundantly. Their exuberant passion influenced what we call ourselves and inspired our products' birth in Kyushu. Our products, once sweets that represented Hakata, are now considered a nationwide Japanese sweet (wagashi). The lands of Fukuoka, Chikuho Iizuka, and the factories in Iizuka and Honami are where our passion takes flight. With a seasonal sense of taste and a local flavor, we produce only the most delicious product we can for our customers.


Ever since our foundation, we have continued our traditional spirit in how we make sweets. At Hiyoko, we make no compromises in the quality and taste of products. Our president always stresses that the only products that go on the shelves are those that we are proud of. Our products are the result of the tireless hard work and wisdom of each of our employees. They symbolize our livelihood and our true hearts. Even when many processes are becoming automated, each of our employees learns how to create Hiyoko by hand. All our employees cherish the feeling that they experience when putting together one of these little treats with their very own hands. We really do love what we make. We pledge to passionately continue making these treats so that people everywhere can enjoy them.


At Hiyoko, we have a quality control lab that conducts ingredient and product testing very closely and carefully. Employees also perform taste tests after products have been shipped up to their date of expiry to confirm whether product quality has deteriorated. We do everything we can to ensure that our customers receive a reliably delicious product.

At Hiyoko, we spare no expense to guarantee the safety of our products. No one is allowed on the production line without a full air blast cleaning, among other thorough precautions as sanitation-related procedures. Our workspaces, tools, and everything used in the sweet-making process are cleaned every day. These processes are a crucial part of putting all our hearts into making these sweets.

The filling is what makes or breaks a manju treat. We have always obtained the most delicious ingredients we can find. Although automated operations have made their way into the manufacturing process, we persist in our passion for hand-made treats. We perform diverse adjustments during the forming and baking of our treats, and through much hard work we have built our production line to allow such activity. Since our inception, we have always strived to produce for you only the most delicious products.

To make our customers smile, we always insist on having only the best natural ingredients so that our products are both safe and consistent. We work tirelessly every day at our production facilities to exceed your expectations for quality and to ensure that our products always give you a genuinely delicious taste experience.
Recently, our Honami Factory was audited by a third party (performed by JIB) to evaluate our safety standards, factory environment, and work methods for the production of our products. We were audited in accordance with an audit system developed by AIB in the USA. The audit occurred on December 1st and 2nd of 2011, and as a result, we received a Recognition of Accomplishment.
Of course, we will not rest on our laurels. Every day, we will put the utmost effort into polishing our production facilities to higher standards. We also pledge to grow as a trusted brand that puts above all else the production of products that are both safe and high quality while keeping close to our hearts our passion for providing our customers with genuinely delicious treats that make them smile.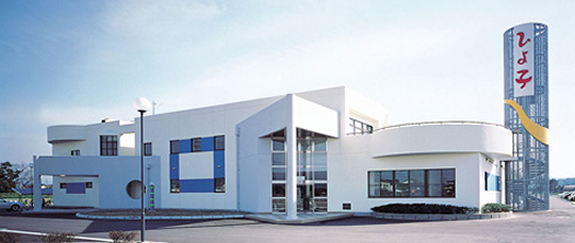 *An AIB Audit is an International Food Safety Audit that determines whether AIB Consolidated Standard for Food Safety is being carried out, maintained, and continued in the correct manner. In Japan, the administration of audits is entrusted to the Japan Institute of Baking, or JIB.
*The AIB Consolidated Standard for Food Safety was developed by the American Institute of Baking.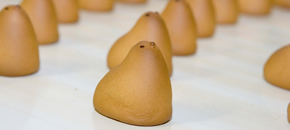 At Hiyoko, we always want to give back to the community. We employ locals, and we provide viewing paths at our Honami Factory so that anyone may observe our production process through a tour of the factory. We have visitors from all over from all walks of life, who come to our factory to see how our delicious treats are made. They also get to see just how much fun it is to make such delicious sweets.

Our Honami Factory is open to the public for tours of our production lines.
How to Apply
To schedule an appointment, please call at least one week in advance.
The telephone number for the Honami Factory is 0948-23-0745 (8:30 AM–5:00 PM)
Tour Times
From 9:30 and 10:30
Times when Tours Are not Held
Closed to the public on Sundays and Wednesdays *Note that we may refuse viewing during busy periods.
Time Required for a Tour
30 Minutes
Possible Number of Participants
Two or more people  ※Note that situations may arise that require us to restrict the number participants.
Age Restrictions
None
Fee
Free
Number of Available Parking Lot Spaces
Five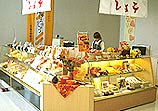 At our Honami Factory, we stock a shop with all the products you know and love. Feel free to get something for your friends or family after taking the tour.
■Hours of Operation: 9 AM–5 PM [Location: 1st Floor]