Advertising companies wanted more effective contact with consumers. Thus, by means of program sponsorships and commercials, television advertising became very lively. This can be considered an era when both viewers (consumers) and advertisers mutually supported and understood each other in terms of what they were looking for.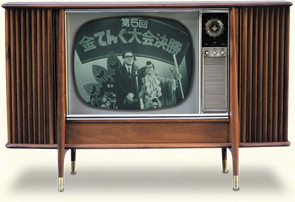 In 1960, when Hiyoko had just entered Fukuoka, it forged the necessary relationship with the media. This occurred after we sponsored a musical program that aired on RKB Radio every Sunday, called "Konshu no Nana Dai Kashu," which literally means "This Week's Seven Big Singers." The sales representative for RKB Mainichi Broadcasting, Masahiro Abe, later became the station manager at RKB Radio. After he was transferred to the Hakuhodo Fukuoka Office, he worked together with Yasutaka Yoshika, who was also working on the Hiyoko Project and who later became the head of Hakuhodo Kyushu. It was about 50 years ago. During this period, Hiyoko's relationship to diverse media began to flourish.

In Toyko in 1966, Hiyoko sponsored a thirty minute-long Nihon TV program called "Drive Game," designed to teach road and traffic safety to young children. The program was hosted by Kazuo Tokumitsu, a budding announcer at that time. On the program, participants received Hiyoko as gifts, adding to the buzz about Hiyoko in Tokyo.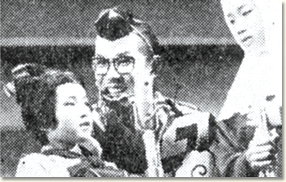 More and more people in Kyushu demanded a television program in which viewers could participate. To meet this demand, KBC Kyushu Asahi Television began a 30 minute program that began at 7 PM every Saturday night. Hosted by Tony Tani (deceased), a popular vaudevillian, the show had such figures for Judges as rockabilly singer Masaaki Hirao, and Kyushu natives including dancers of Japanese classical dance, Tokumi Izumi (deceased) and Koichika Nishikawa, and a player of improvisational theatre called "Niwaka", Genkai Hakata. The program was held in places like gymnasiums and halls in the towns, cities, and villages in the KBC area. General participants consisted of people who sang, danced, did parlor tricks, and anything else they felt they could perform in an on-stage competition filmed with a live audience. The ratings for the first episode were 26%. When the timeslot overlapped with the New Year holiday, it would achieve ratings of 35%, a high number, despite being a locally produced program.
Producers were reluctant to make such a program at the time as it was filmed in front of a live audience and thus incurred inherently higher costs. However, it had tremendous excitement and charm in that it allowed common people to appear freely on television and meet celebrities, an energy unique to programs in which viewers can also participate. During the show, commercial talent Sumie Sakai appeared on stage with a giant Hiyoko plush doll. This act was a hit and garnered great popularity with children both at the venue and at homes in front of their TV. At this time, a commercial battle raged between Hiyoko and Tirolian, which became the talk of the Fukuoka City area where the commercials were broadcast.
Both sweets manufacturers had moved to Fukuoka from Iizuka at around the same time and then on to Tokyo. As rivals, they both recognized the effects of television broadcasting and used it to increase sales. In terms of people's taste for sweets and their sales, informational elements such as brand recognition and the popularity through television advertising played a big role, with the era having made viewers feel the energy that could be produced only by highly motivated companies.
*In the compilation of these articles we have collaborated with many individuals such as Yasutaka Yoshika and Masahiro Abe. We would also like to acknowledge that portions of the content have been excerpted from the "RKB Broadcasting History Encyclopedia" (RKB Hoso Shi Jiten) and from "A 30 Year History of Kyushu Asahi Broadcasting" (Kyushu Asahi Hoso Sanjuu Nen Shi).
We sincerely thank everyone for their cooperation.