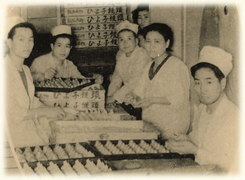 After Shigeru Ishizaka passed away in 1938, his wife Ito along with their four small children, including the eldest son, Hirokazu, worked tirelessly through the war and thereafter. Although supply shortages forced them to temporarily stop operations during the war, Ito was determined to create once again the Hiyoko that her husband had envisioned. Ito represented the tradition of strong, radiant, and determined Iizuka women.

In 1956, Hirokazu, who had inherited the business at the age of 17, was 26 years old. By that time, Japan had emerged from the post-war period, having experienced the Jinmu boom. However, the sun soon began to set on the coal industry that produced Japan's only natural resource at the time, which had also fueled manufacturing during the boom. Chikuho was, of course, not immune to this change. As Japan switched from coal to oil, this period brought dramatic changes, and Hirokazu, with his dreams and courage, set out to re-establish the family business in Fukuoka.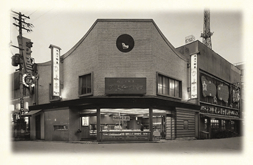 At that time, the population of Fukuoka was 500,000. As major companies expanded their business to the center of Kyusyu one after another, the number of families moved to this area has been increased. They were called Hakachon-zoku. The Asakaze, a Blue Train that ran until Feb. 28, 2005, began running here in November of 1956, travelling from Hakata to Tokyo in 17 hours. With the slogan of "Kamisama(God), Inaosama(Kazuhisa Inao, the legendary baseball pitcher)", the warriors of the Nishitetsu Lions won a historic three titles in a row beginning in 1956, increasing the region's fame. And so it came to pass that Hakata and Fukuoka were the liveliest and most exciting places in the country. Wherever people gather and travel, they want souvenirs, and that fact of human nature gave Hiyoko an idea.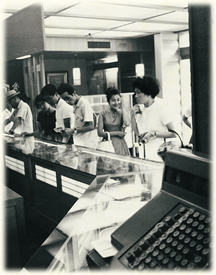 Tenjin was the dynamic center of Fukuoka. Hirokazu, of course, was determined to open his shop on prime real estate in this area at any cost, and he did exactly that in February of 1957. As it was the year of the rooster, he tried all kinds of things to get people talking about Hiyoko, including giving eggs to customers as gifts and other means of advertisement. It wasn't long before his marketing tactics were the talk of the town. Then, he launched advertising campaigns on television that became the departure point towards success. We were thrilled when people lined up to make their purchases as the product rolled out. Hiyoko's popularity rocketed in Hakata and Fukuoka, and it became famous for its adorable shape and fragrance, as well its yolk's rich flavor.