In 1963, poet and lyricist Hachiro Satoh created a song just for Hiyoko, and it became known as "The Hiyoko Song".

Hiyoko ga ichiwa, niwa, sanwa(One, two, three Hiyokos)
Kokku, chikku
Pikku, chokku
Sanpo shiteru(Going for a walk)
Fuwa fuwa(Fluffy and soft)
Dekitate mitai da na(Looks just born)
Kakine wo kugutte(From around the hedge)
Kao wo dashita(They poke their faces out)
Kokku, chikku
Pikku, chokku
Chon pin chon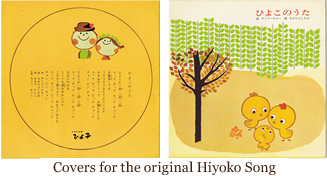 At that time, the song became the background music for the RKB Television weather reports. People fell in love with the song, and both children and teachers loved the original covers in Sonosheet records that were also distributed to preschools and daycares.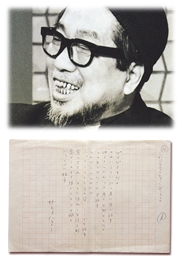 About Hachiro Satoh
Hachiro Satoh passed away in 1973 at the age of 70. From pop songs to nursery rhymes and commercials, Hachiro composed a variety of songs and is known for songs that people love immediately. These songs include "Chiisai Aki Mitsuketa" (Found Little Autumn), "Ringo no Uta" (The Apple Song), and "Kawaii Kakurenbo" (Adorable Hide-and-Go-seek). Aiko Sato, a well-known writer, is his younger sister.  On the occasion of the release of "Piyo Piyo Monaka" we received from Mr. Satoh a poem supporting our success. This poem is inscribed on a monument in the garden at our Iizuka general factory so that we may always carry his message in our hearts and feel encouraged as we make each and every Monaka.

In 1967, two friendly Hiyokos walking together were released as "Piyo Piyo Monaka." The company president at the time, Hirokazu Ishizaka, was one day looking through a collection of concept art for the design of a new product. As he was browsing, he thought to himself, "Wouldn't it be great if we had two of them together…" Because there were two of them, he thought not one "Piyo," but two, to make "Piyo Piyo." And so the brown and white Hiyoko were born as friends in the product: Piyo Piyo Monaka. Today, the brown one contains Hokkaido red bean filling and the white one contains Hoshinomura (a village in Yame-gun in Fukuoka) green tea filling.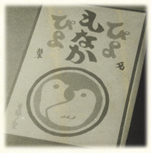 The package for Piyo Piyo Monaka at the time was designed by renowned dye and print artist Kichiemon Okamura (deceased). The design, which featured a large print design on a Japanese paper-based package, was very well received. This package, as well as a series of posters and commercials, won the Grand Prix at the Fukuoka Art Directors Club Awards and received tremendous recognition.

We mechanize only a portion of the manufacturing process for this product as its three dimensional shape is unique. The product is not circular or square, which makes it vulnerable to damage if not properly made. Thus, our staff performs most of the process by hand. The product's unique, light, and delicious flavor and its unique, adorable form have become popular not only in Fukuoka but also in Tokyo. The shape can be imitated but not the heart we put into our products. Although you can't see it, we share with customers the pride we put into making each Piyo Piyo Monaka.